Conveyor Roller Bearings

The Logan Dust-Protected Bearing (Style D) is provided with an outer shield which is fixed to the stationary inner race of the bearing, and does not touch any rotating part. In a reasonably dry atmosphere, excellent results are obtained with no lubrication what-so-ever.

The Grease-Packed Bearing (Style GP) features the same construction as the Dust-Protected Bearing, but is pre-lubricated during assembly with a special long-life grease.

Lubricated-for-Life Bearings are constructed similar to the Dust Protected type including the same labyrinth outer seal, but with an added built-in inner seal. Bearing is pre-lubricated during assembly with a special long-life grease.

The Lubricated-for-Life Bearing is recommended for proper driven rollers as used in Live Roller or Belt Conveyors. Also suitble for push line Roller Conveyor, but NOT for Gravity Lines. Do not use this construction in areas where there is dirt or grime, as this type hsa no provision for cleaning or regreasing as with the Pressure-Lubricated Bearing.

Pressure-Lubricated Bearing construction is similar to the Dust-Protected, with the addition of a grease chamber behind the bearing plus a grease duct and pressure fitting in the shaft. The floating cup in the rear of chamber (patented) prevents entry of grease into interior of roller.

Alternate Bearing construction such as:

Lubricated-for-Life (Style LL) Pressure-Lubricated (Style L) Grease Packed (Style GP) Zinc Plated (Style ZP)

and Round Bore (Style R) are available on most bearings shown.

Note: These drawings indicate basic configurations. Do not use for design or construction.


Bearing Descriptions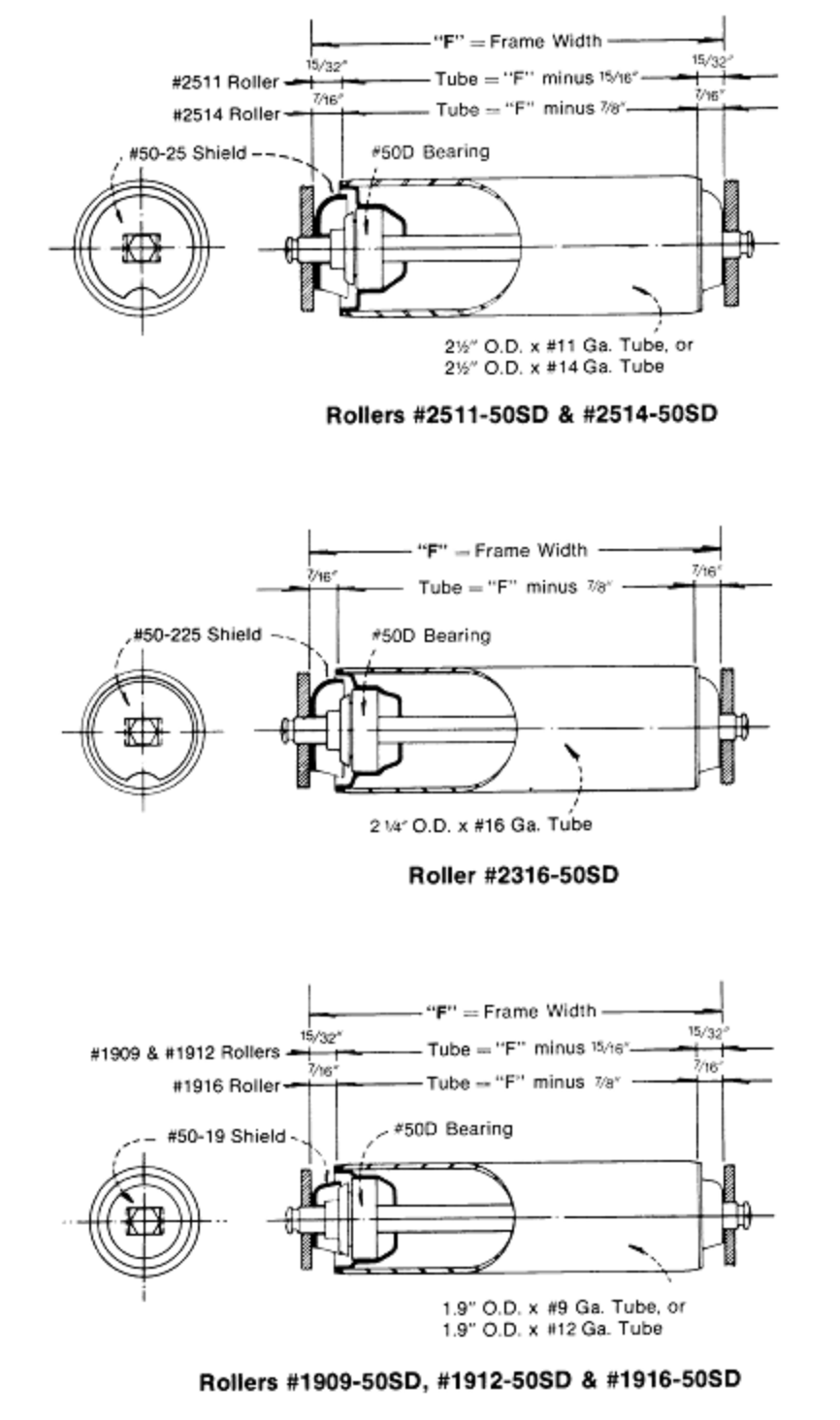 SHOT SHIELDS
Shot shields are recommended for pouring lines in foundries to protect the bearings. The rounded surface tends to shed any molten metal which might be spilled or splashed during the pouring operation. The shields are stationary on the shaft so that any accumulation of metal between the shield and the frame does not foul the roller.

A hole in bottom of shield serves as a clean out for sand or grit which might enter around shield.

The rollers are shown with dust protected bearing construction which is ordinarily recommended for foundry service. Pressure lubrication can be added if preferred.

Purchasing Description

Add suffix SD for Shot Shields on Dust Protected Bearings. Add suffix SL to bearing number for Shot Shields on Pressure Lubricated Bearings.
Contact our sales department.
---
CHAIN CONVEYORS
CHAIN DRIVEN LIVE ROLLER
GRAVITY CONVEYORS
ROLLER BEARINGS